New Year's resolutions come and go — sometimes again and again. An article in Psychology Today states that 50 percent of Americans make resolutions for the New Year, but only half of those last longer than 90 days. The reasons for failure are countless, but the most common are undefined goals, a lack of support, and poor progress recording.
So if you resolve to eat healthier,  our gastroenterologists would like to offer you a few tips:
Be Specific. Define how many calories you'll consume each day — including a breakdown of how many grams of fat, sugar, protein, and carbohydrates you'll allow in those calories.
Create your menus. If you plan your meals ahead of time, you can better ensure you get the right food and portions.
Track your progress. If weight loss is your goal, weigh yourself at least once a week. Write down everything you eat to measure your commitment.
Get professional advice. Ask your doctor, a nutritionist, or even a gastroenterologist for advice on maintaining a healthy diet.
Make Eating Right a Habit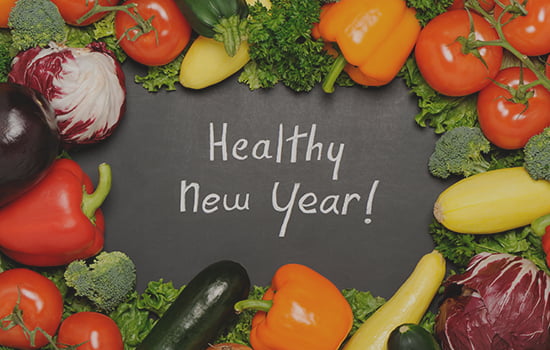 When you make your New Year's resolution, commit to changing your mind too. All it takes is three weeks to form a new habit. Focus on the positive aspects of eating healthy. Think about the new ways of cooking and preparing food you'll discover with healthy recipes.
Besides, healthy eating isn't about deprivation. Food should be satisfying and enjoyable, not tasteless and bland. Healthy eating is about balance. The proper diet for you can set you on the path toward happiness, wellness, energy, and joy.
Tips for Success
Set yourself up for success with a bit of help from us at Manhattan Gastroenterology. Here are a few tips we hope you'll find useful:
Include something fresh in every meal. The more color, the better.
Add a salad made with dark green leafy lettuce to small meals to satisfy your hunger.
Satisfy your sweet tooth with sweet vegetables like corn, yams, sweet potatoes, beets, and carrots.
Get your fiber from fruit.
Flush your system and stay hydrated by drinking water with and between meals.
Eat only bread that lists "100 percent whole wheat" or "whole grains" at the beginning of the ingredients.
Try delicious, non-traditional grains like quinoa, millet, brown rice, and barley.
Avoid refined foods that contain no whole grains.
Snack on sunflower and pumpkin seeds.
Add sweeteners to plain yogurt, cereal, and tea.
Choose small or medium dishes at restaurants or share them with a friend.
Pack food for long trips. Nuts, string cheese, and fresh fruit will keep you satisfied.
All the little steps add up to considerable changes in your eating habits over time. Balance your diet the easy way by committing to eating better — one bite at a time. And if you need any help, contact us.  Our doctors are experts when it comes to your digestive system and your health.