Peptic ulcers are breaks in the lining of the upper gut parts exposed to stomach acid. Peptic ulcers occur in the stomach (gastric ulcer) or the first part of the small intestine (duodenal ulcer) and the oesophagus (gullet). About 10% of people in the developed world will have an ulcer at some time in their life. Peptic ulcer disease should always be evaluated with a thorough consultation and examination by a gastroenterologist for an accurate diagnosis and treatment plan. It may be a symptom of a severe illness or condition that needs immediate attention.
"




"




★ ★ ★ ★ ★

The entire staff was welcoming and made the visit quick and seamless. The office is clean, and the staff even make a point in offering coffee or water while you wait. The doctor was very friendly and to the point. Highly recommend choosing this office.
Higher risk groups for peptic ulcers include the following:
Cigarette smoker
Family history of ulcers
Habitual consumer of alcohol
Regular user of non-steroidal, anti-inflammatory drugs (NSAIDs) such as aspirin or ibuprofen
Symptoms of Peptic Ulcer Disease
Ulcers sometimes don't show any symptoms, especially if the sores are small enough, but what makes you aware of an ulcer is usually a sensation of pain. Typically, you'll feel this pain in your abdomen. The pain may vary over time depending on many factors. In addition to the pain associated with peptic ulcer disease, you may suffer nausea or vomiting, including vomiting blood.
You also may see blood in your stool. Bloating and heartburn can also be symptoms of an ulcer, along with many other symptoms. These are severe symptoms that need immediate attention by a gastroenterologist for an accurate diagnosis and treatment plan to exclude serious medical conditions or one that requires immediate treatment. Upper endoscopy is the gold standard for full visualization and an accurate diagnosis.
Causes of Peptic Ulcer Disease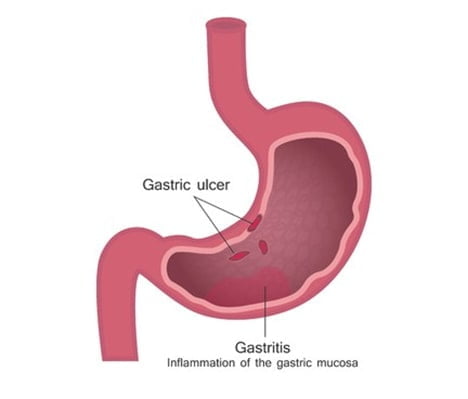 When stomach acid comes in contact with an ulcer or opens a sore in or around your stomach, it can cause pain. But what causes an ulcer to form in the first place? First of all, stress and diet do not cause peptic ulcer disease. An ulcer develops when the amount of acid in your stomach increases or the amount of protective mucus decreases.
One likely cause is the bacteria in the mucus, specifically the Helicobacter pylori (H. pylori) variety. H. pylorus is a common infection of the stomach wall that can cause inflammation that leads to an ulcer. We can treat H. Pylori with antibiotics. The regular use of certain medications, such as NSAIDs and osteoporosis medicines, is also a common cause of peptic ulcer disease. Cancer or malignancy can also cause ulcers that need to be excluded, along with many other causes that an experienced gastroenterologist should diagnose.
Diagnosing Peptic Ulcer Disease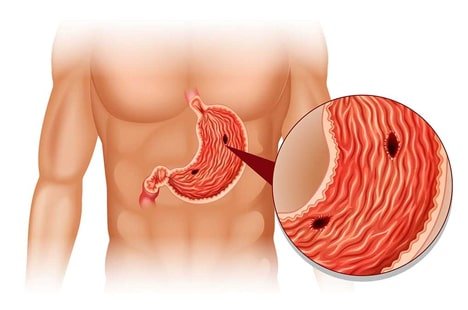 When you come in to see one of our NYC gastroenterologists, they will perform a thorough history and physical exam.  If they suspect peptic ulcer disease but find you don't take any of the medicines known to cause the disease, they may confirm the presence of H. pylori through a blood, stool, or breath test.
An upper endoscopy is a gold standard for diagnosis and evaluation. This exam will allow the doctor to visually confirm the existence of an ulcer and even take a biopsy sample to check for H. pylori. Your gastroenterologist will assess the situation and decide on the right plan for arriving at a diagnosis and further treatment regimen based on their findings.
Peptic Ulcer Treatments
Your gastroenterologist will advise you on a treatment plan after establishing a diagnosis. Limiting alcohol, avoiding smoking cigarettes, and avoiding NSAIDS may be necessary measures. Diagnosing and treatment of h. pylori are essential as well as acid suppressants to heal the ulceration may be recommended. Upper endoscopy is vital to guide our diagnosis and treatment to rule out more serious causes of ulcers and your symptoms in conjunction with biopsies that we can perform at the time of the exam. There are many other causes of ulcers like Crohn's disease m Zollinger-Ellison syndrome, or possible cancer, which needs further workup by your gastroenterologist with a complete treatment plan.
Important Reminder: The only intent of this information is to provide guidance, not definitive medical advice. Please consult a GI doctor about your specific peptic ulcer condition. Only trained, experienced GI doctors like our doctors can determine an accurate diagnosis and proper treatment for your peptic ulcers.
As best-in-class NYC gastroenterologists, our doctors provide highly personalized and comprehensive care. For more information about peptic ulcers treatments or to schedule a consultation with one of our gastroenterologists (GI doctors), please contact our Union Square/Chelsea, Midtown, or Upper East Side NYC offices.
Manhattan Gastroenterology Locations:
Manhattan Gastroenterology

(Upper East Side)
983 Park Ave Ste 1D, New York 10028


(212) 427-8761
Manhattan Gastroenterology

(Midtown)
56 W 45th St, Ste 802, New York 10036


(212) 533-2400
Manhattan Gastroenterology

(Union Square)
55 W 17th St Ste 102, New York 10011


(212) 378-9983