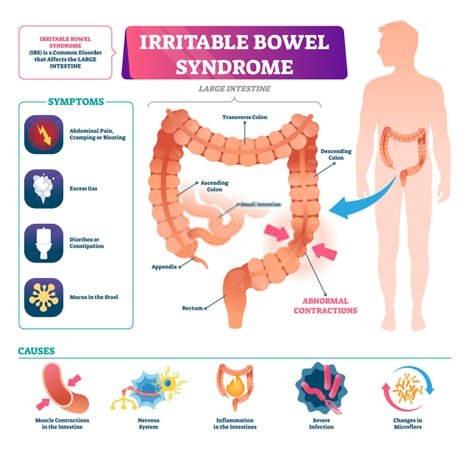 Irritable bowel syndrome, or IBS, is a common medical condition diagnosed by the best-in-class NYC IBS doctor that targets your intestines. IBS can cause abdominal pain, gas, bloating, cramping, diarrhea, and/or constipation. IBS symptoms can often be accompanied by overlapping other symptoms and be difficult to identify as the cause of your symptoms.
IBS is extremely prevalent.  In the United States, it is estimated that 10 to 15 percent of the adult population suffers from IBS symptoms, yet only 5 to 7 percent of adults have been diagnosed with it. Patients should always be evaluated with a thorough consultation and examination by a gastroenterologist for an accurate diagnosis and treatment plan to exclude an underlying serious illness or condition.  Blood work, stools studies, breath tests, and other diagnostic tests include endoscopy or colonoscopy, may need to be performed to secure a proper diagnosis depending on your case.
Our specialists investigate the cause of IBS symptoms in each patient and find the best treatments that may work for them.
Other symptoms of irritable bowel syndrome that the gastroenterologist's patients typically have include bloating and the feeling of not having emptied the bowels, so needing to return to the toilet shortly after a bowel action. Many people with IBS find that their symptoms are made worse by stress and by certain foods. If you have IBS, your large intestine may be more sensitive to stimulation, so it can spasm for no apparent reason, causing the uncomfortable symptoms mentioned above. IBS can be treated by our gastroenterologists (or at least comfortably controlled) with dietary, lifestyle changes,  medications, and other modalities in many cases after a diagnosis is made.
"




"




★ ★ ★ ★ ★

My experience with Dr. Tsynman was fantastic. I didn't have to wait long to see him, and he showed real concern. He's very sweet. He asked all the necessary questions and then listened to what I had to say about my symptoms. For once, I feel like someone is finally paying attention to my lower GI issues, and, God willing, I'll finally have some answers.
Symptoms of Irritable Bowel Syndrome
Symptoms include diarrhea, constipation, and sometimes both at different times. You may also suffer from cramps, bloating, and gas. You may notice mucus in your stool, another symptom. If you have IBS, you may get an urge to move your bowels, but then nothing comes out.  Since some of the symptoms of IBS also are symptoms of more serious conditions, however, you should see your doctor or one of our Manhattan (NYC) gastroenterologist for an accurate diagnosis.
Causes of Irritable Bowel Syndrome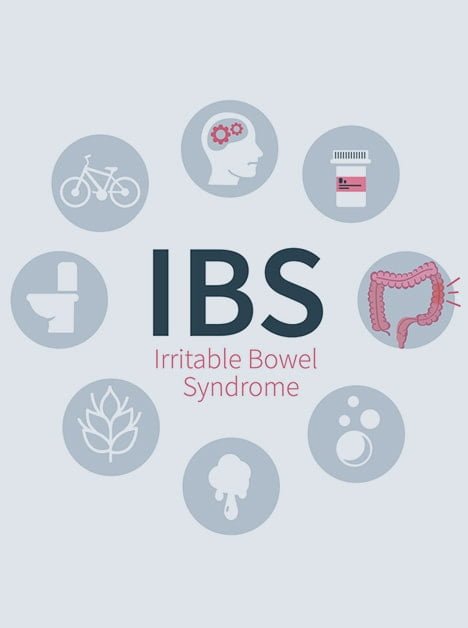 The exact cause or causes of irritable bowel syndrome are unknown, although there are many theories. The muscles in your large intestine move food along as your body absorbs the nutrients and fluids. When you have IBS, the muscles may not work properly, flushing food too quickly or stagnating with the food stuck there. This dysfunction causes the symptoms described above.
Not everyone is affected the same way, but women report the condition more often than men. Certain foods — such as dairy, chocolate, even fruits, and vegetables — can trigger IBS. Artificial sweeteners, alcohol, caffeine, and carbonated beverages might also be triggers. Medicine, such as antibiotics, can contribute to it as well. Stress, hormones, and genetics also can play a role in the onset of IBS. Unhealthy food habits, sedentary lifestyles, medications, and other factors can be triggers. In addition, IBS often occurs after experiencing gastrointestinal diseases or a result of microbiome imbalance or condition such as SIBO (small intestinal bacterial overgrowth( which could be a trigger or confounding. Our specialists of Manhattan Gastroenterology suggest that some people's bowels are just more sensitive than others. However, many other causes need to be ruled out for an accurate diagnosis.
The exact reason for IBS development remains unclear but based on a study published recently on PubMed, our nervous and gastrointestinal systems are connected with it in more ways than we think. Our subconsciousness controls the small intestine's muscles in a significant way. When we are stressed, our intestine answers with spasm.  Doctors suggest that leading a healthy lifestyle with enough physical activity and a healthy diet will always help.
Diagnosing Irritable Bowel Syndrome
If you're experiencing irritable bowel syndrome, one of our doctors will review your medical history and give you a thorough physical examination. Because its symptoms are similar to those of more serious conditions, our NYC gastroenterologists won't be able to diagnose IBS until they have eliminated those other conditions. They may need to order laboratory tests or perform diagnostic procedures such as a colonoscopy or an endoscopy.
Generally, it's worth seeking advice from specialists if you have any of the symptoms of irritable bowel syndrome.  Before you visit the doctor, it can be helpful to record the frequency of your symptoms and how long they last. This type of information can be very useful for your specialist to try and diagnose the problem.  Our doctors may recommend carrying out several different tests to collect more information about your condition. Typical tests that may be suggested include a colonoscopy, blood tests, stool studies, or many other possible tests deemed necessary by your gastroenterologist.
Doctors often classify IBS into one of four types based on your usual stool consistency. These types are important because they affect the types of treatment that are most likely to improve your symptoms.
The four types of IBS are: (criteria and categorizations can change over time)
IBS with constipation, or IBS-C
Hard or lumpy stools at least 25 percent of the time
Loose or watery stools less than 25 percent of the time
IBS with diarrhea, or IBS-D
Loose or watery stools at least 25 percent of the time
Hard or lumpy stools less than 25 percent of the time
Mixed IBS, or IBS-M
Hard or lumpy stools at least 25 percent of the time
Loose or watery stools at least 25 percent of the time
Unsubtyped IBS, or IBS-U
Hard or lumpy stools less than 25 percent of the time
Loose or watery stools less than 25 percent of the time
IBS has recurrent abdominal pain plus two or more of:
Pain  from defecation
Altered stool at the onset of pain
Abdominal bloating
Increased or decreased stools at the onset of pain
A 'never empty' sensation after passing stool
Passing mucus from the rectum
Morning cluster of motions
Constipation alternating with diarrhea
Treating Irritable Bowel Syndrome
Because there is no known cause of the condition and it seems to affect different people differently, there is no single treatment for IBS that will work on everyone. Many different irritable bowel syndrome treatments have worked in the past, so our specialists have various options to help you.
IBS treatment can include diet and lifestyle changes, such as eliminating gassy foods and beverages. Other options include a range of medications. Antibiotics, drugs to control diarrhea, and even antidepressants sometimes can be an effective IBS diarrhea treatment and several other newer medications that have been approved.
Pharmacological management is geared towards addressing diarrhea or constipation, and in patients with IBS-M, a combination of treatments may be needed. Therapeutic options for relieving abdominal pain in IBS patients include:
Antispasmodics
Peppermint oil
Selective serotonin reuptake inhibitors (SSRIs) such as Citalopram, Escitalopram, Fluoxetine
Tricyclic antidepressants such as Amitriptyline, Desipramine, Doxepin, etc.
Treatments for Irritable Bowel Syndrome With Diarrhea (IBS-D) include:
Opioid agonists
Antibiotics
Bile salt sequestrants
Probiotics
Mixed opioid agonists/antagonists
5-HT3 antagonists
Treatments for IBS Constipation (IBS-C) may include:
Chloride channel activators
Polyethylene glycol (PEG)
Psyllium
Guanylate cyclase C agonists
What to eat when you have IBS?
Normally, the digestive system is an excellent and well-functioning mechanism. But when something goes wrong – the whole system suffers. To make it easier or to eliminate symptoms, a planned and well-matched nutrition and diet can help.
Different diets may help different people with IBS. New York specialists suggest changing what you eat for several weeks to see if your symptoms improve. Or it could take a little more time. But, the main goal is to balanced and improve your food habits.
IBS specialists from Manhattan Gastroenterology recommend such changes in your diet to help treat symptoms of irritable bowel syndrome (IBS):
eat more fiber
avoid gluten
follow a low FODMAP diet
Nutritional therapy must be very customized, so you must speak with your gastroenterologist.  Some possibilities include the following:
Avoid gluten
Gluten—a protein found in wheat, barley, and rye. Foods that contain gluten include most cereal, grains, pasta, and many processed foods. Specialists observed that some people with IBS have more symptoms after eating gluten, even though they do not have celiac disease.
Low FODMAP diet
There is a special diet—called the low FODMAP diet. Some foods contain carbohydrates that are hard to digest. These carbohydrates are called FODMAPs.
For example, apples, apricots, blackberries, cherries, mango, nectarines, pears, plums, watermelon, or juice containing any of these fruits. Such vegetables as artichokes, asparagus, beans, cabbage, cauliflower, garlic and garlic salts, lentils, mushrooms, onions, sugar snap, or snow peas. Dairy products such as milk, milk products, soft cheeses, yogurt, custard, and ice cream. Honey and foods with high-fructose corn syrup.
At our IBS treatment center, we suggest trying the low FODMAP diet for a few weeks to see if it helps with your symptoms. Our specialist may recommend slowly adding foods that contain FODMAPs back into your diet if your symptoms improve. You may be able to eat some foods with FODMAPs without having IBS symptoms.  Nutritional therapy must be very customized, so you must speak with your gastroenterologist.
Important Reminder: This information is only intended to provide guidance, not definitive medical advice. Please consult a GI doctor about your specific condition. Only trained, experienced doctors can determine an accurate diagnosis and proper IBS treatment for irritable bowel syndrome (IBS).
As best-rated NYC Upper East Side gastroenterologists (GI doctors), our doctors provide highly personalized and comprehensive IBS treatment care. For more information about the best treatment for Irritable Bowel Syndrome (IBS) or to schedule a consultation with one of the top irritable bowel syndrome specialists, please contact Union Square/Chelsea, Midtown Manhattan, or Upper East Side NYC offices.