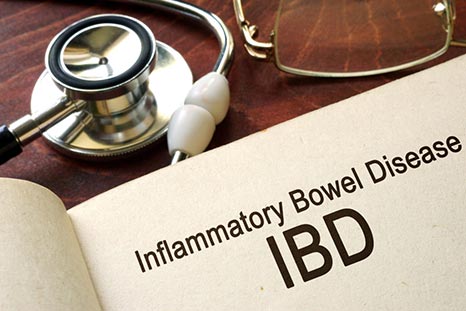 Inflammatory bowel disease (IBD) is a term that describes a group of disorders in which the intestines become irritated and inflamed. We use it to describe disorders that involve chronic inflammation of your digestive tract. It occurs when the immune system is triggered and causes inflammation of the bowel.
Types of IBD include:
Ulcerative colitis: The affected bowel is limited to the colon or large intestine.
Crohn's disease: Any part of the gastrointestinal tract from the mouth to the anus can be affected. Commonly, it affects the last part of the small intestine or the colon and can also affect both.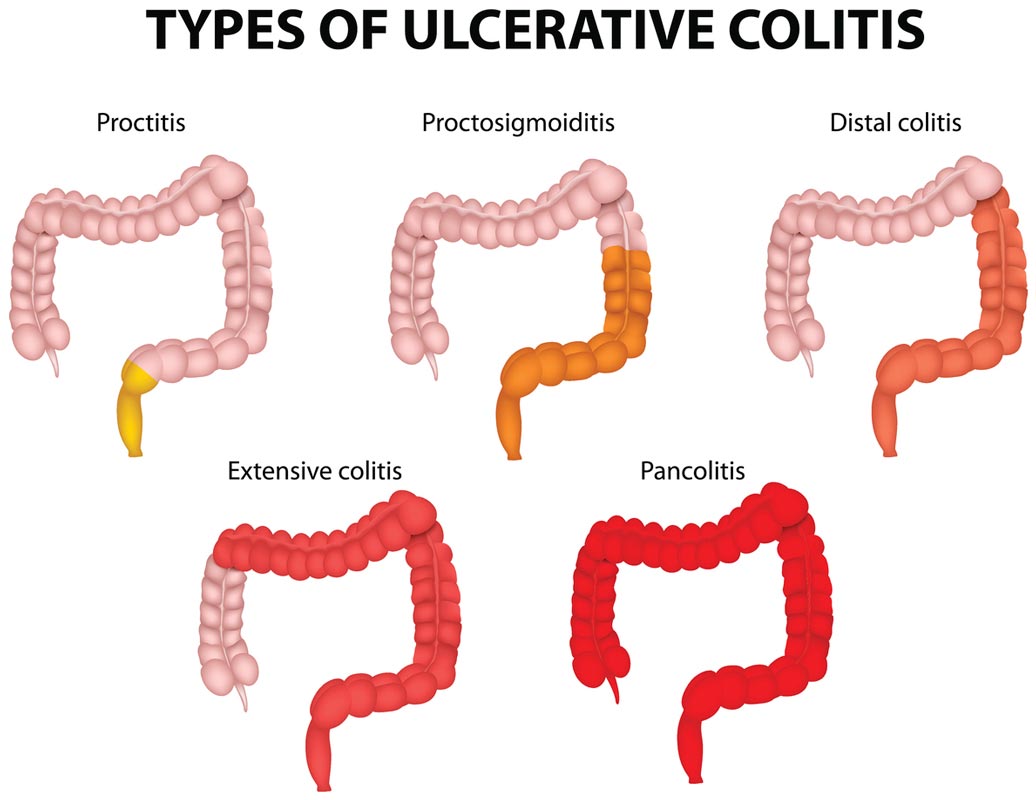 IBD (inflammatory bowel disease) can be severe and sometimes leads to life-threatening complications. Generally, patients can have bouts where there is severe inflammation and the patient experiences a "flare."  There are periods of times when there may be less inflammation, and the patient may be with less or without symptoms or said to be in "remission."  However, inflammation and symptoms do not always correlate closely.
Our best-in-class doctors at Manhattan Gastroenterology specialize in managing Inflammatory Bowel Disease (IBD), Crohn's Disease, and Ulcerative Colitis. If you have symptoms consistent with Crohn's disease or an established diagnosis, you should always be evaluated with a thorough consultation and examination by a physician for an accurate diagnosis and treatment plan and to exclude a more severe or urgent condition.
"




"




★ ★ ★ ★ ★

The entire staff was welcoming and made the visit quick and seamless. The office is clean, and the staff even make a point in offering coffee or water while you wait. The anal warts doctor was very friendly and to the point. Highly recommend choosing this office.
Symptoms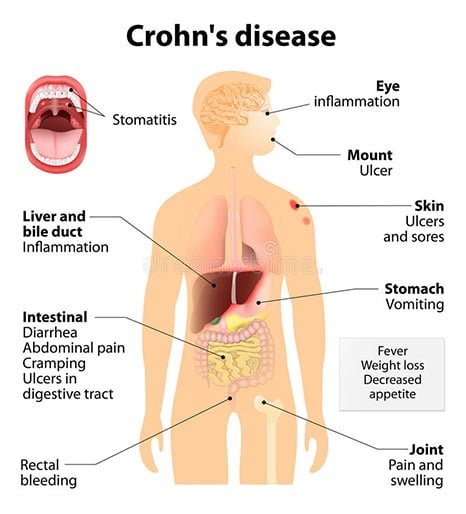 Inflammatory bowel disease (IBD) symptoms can vary, depending on the location of the inflammation and how severe the symptoms may be. Symptoms can range from mild to severe. Nonsteroidal anti-inflammatory medications such as ibuprofen (Advil, Motrin IB, others) (Aleve) and can worsen disease in people who have IBD (inflammatory bowel disease). Cigarette smoking is also a risk factor for Crohn's disease.
Signs and symptoms that are common to both Crohn's disease and ulcerative colitis include:
Fever and fatigue
Abdominal pain
Blood in stool
Reduced appetite
Diarrhea
Unintended weight loss
Other symptoms
 Causes
The exact cause of inflammatory bowel disease is unknown. There are likely triggers which may be bacteria, viruses, or other triggers that induce the body's immune system to produce an inflammatory reaction in the bowel. Heredity is also an important factor in IBD, and inflammatory bowel disease (IBD) is more common in people who have family members with the disease. However, most people with IBD do not have this family history. Risk factors include age, race (Although whites have the highest risk of the disease, it can occur in any race. If you are of Ashkenazi Jewish descent, your risk is even higher), and family history, amongst others.
Complications
Ulcerative colitis and Crohn's disease have some complications in common and others specific to each condition. These complications include colon cancer (patients with IBD require more frequent screening and surveillance, speak with your doctor), bowel obstruction, malnutrition, fistulas, ulcers, and many others.
Treating Inflammatory Bowel Disease
Although there is no specific cure for inflammatory bowel disease (Crohn' Disease or Ulcerative colitis), effective therapies now exist for chronic treatment and management of these conditions. These treatments have drastically altered the natural history of these diseases.
Medicines, particularly biological therapies, can help dramatically reduce the symptoms and even deliver a long-term remission.
Inflammatory Bowel Disease (IBD) treatment options include:
Combination of 5 ASA drugs
Immune system suppressors
Biologic therapies
Other modalities
Surgery is an option if medical therapy fails. Finally, if you suffer from inflammatory bowel disease (IBD), you need more frequent screenings for colon cancer as you have a higher risk of colon cancer. Your gastroenterologist should formulate an effective surveillance colonoscopy schedule.
NYC Inflammatory bowel disease (IBD) Doctors and Specialists in Midtown Manhattan and on Upper East Side
Our best-in-class doctors at Manhattan Gastroenterology look forward to helping you manage your specific symptoms and situation to get you back to healthy living! Our doctors provide highly personalized and comprehensive care. They have earned some of the most respected reputations in NYC. For more information about the GI conditions we treat, including inflammatory bowel disease (IBD), or to schedule a consultation with one of our GI doctors, please contact our NYC offices in Midtown Manhattan and Upper East Side. We look forward to meeting you!