What Is Abdominal Pain?
If you're suffering from abdominal pain in Manhattan or one of the other boroughs, it can be a mild inconvenience treatable with over-the-counter remedies or a sign of a severe illness that requires immediate attention from a gastroenterologist.
Abdominal pain should always be evaluated with a thorough consultation and examination by a gastroenterologist for an accurate diagnosis and treatment plan, as it may be a symptom of a severe illness or condition. There are multiple causes of stomach pain that should be investigated by a top GI specialist. Abdominal pain can be acute or chronic, and it can result from problems with the stomach, appendix, gallbladder, spleen, bowel, liver, or gynecological issues.
Therefore, it is critical that you see our practice's doctor for an examination and further investigation to determine the source of your pain. If you're experiencing abdominal pain in the Upper East Side, your problem deserves to be addressed by a best-in-class gastroenterologist.
"




"




★ ★ ★ ★ ★

I came in for a consultation for an issue I've been having with my stomach for about 2 months. Dr. Yakubov was very kind, informative and made me feel at ease about my current situation. He really took his time to explain to me what the issue could be and answered all of my questions and concerns. The office is very beautiful and clean as well.
What Are the Causes of Abdominal Pain?
There are numerous causes of abdominal pain. The list is extensive, and it contains, among other things, the following:
Bile duct inflammation (

cholangitis

)
Bladder, kidney, or spleen infection
Constipation
Excessive gas and bloating
Food allergies
Food or lead poisoning
Gallbladder inflammation
Gallstones
Gluten intolerance (Celiac disease)
Heightened ketone levels (diabetic ketoacidosis)
Hernia
Indigestion
Inflammation of the abdominal lining (peritonitis)
Inflammation of the appendix (appendicitis)
Inflammation of the pancreas (pancreatitis)
Inflammation of the small intestine (

duodenitis

)
Inflammatory bowel disease (ulcerative colitis)
Intestinal obstruction
Intra-abdominal malignancies
Irritable bowel syndrome
Kidney disease (

uremia

)
Kidney stones
Lactose intolerance
Large intestine inflammation (diverticulitis)
Less blood to the intestines (mesenteric ischemia)
Liver disease (hepatitis)
Lymphatic cancer (non-Hodgkin's lymphoma)
Pneumonia
Ruptured spleen
Sickle cell anemia
Stomach lining inflammation (gastritis)
Stomach virus or flu
Strained, pulled, or injured abdominal muscle
Swollen lymph nodes (mesenteric

lymphadenitis

)
Torn or punctured colon
Ulcer(s)
Urinary tract infection
Many other conditions
Women must add the following potential causes to their list:
Fallopian tube inflammation (

salpingitis

)
A fertilized egg outside your uterus (

ectopic

pregnancy)
Infection of your reproductive organs (pelvic disease)
Menstrual cramps
Ovarian cancer
Ovarian cysts
Ovulation pain (

mittelschmerz

)
Tissue growing outside your uterus (

endometriosis

)
What Are the Abdominal Pain Symptoms?
Symptoms associated with stomach might include:
Belching
Bloating
Indigestion
Constipation
Diarrhea
Heartburn
Pelvic discomfort
Discomfort in the upper right or left, middle, or lower right or left abdomen
Abdominal pain treatment depends on the patient's history of the disease or other health conditions that cause it.
How to Diagnose Abdominal Pain?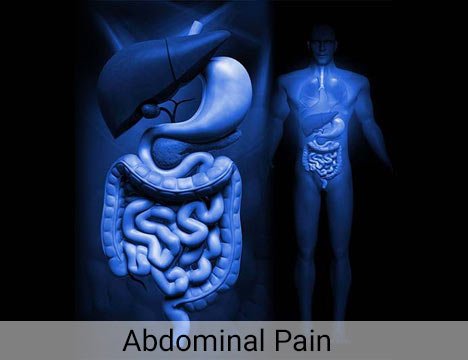 If your pain is localized, knowing where it is (high or low, left or right, front or back) can help your GI specialist narrow down the cause. The duration and intensity of your pain can also point your GI doctor in the right direction. Associated symptoms, such as diarrhea or fever, can potentially indicate a specific cause.
When you come to our offices for a consultation, our physicians will go through your medical history and symptoms before doing a thorough examination. Blood, urine, and/or stool tests may be ordered by your GI doctor if necessary. As part of the evaluation, our doctors may request imaging or endoscopy, colonoscopy, small bowel capsule, or other medical diagnostic procedures. The first step toward abdominal pain alleviation is determining the correct diagnosis.
How to Treat Abdominal Pain?
The treatment depends on an accurate abdominal pain diagnosis by the GI doctor. Schedule an appointment with one of our abdominal pain specialists to learn more about your specific treatment options. This will allow us to make an accurate diagnosis and get you on the right track. Once they've determined the source of your abdominal pain, they'll be able to discuss your treatment options, which may include medication, lifestyle modification, surgery, or other possibilities. To make an accurate diagnosis, your doctor may need to order testing.
Frequently Asked Questions
What Are the Different Types of Abdominal Pain?
We can divide abdominal pain into three categories:
Localized. Pain is limited to a single area of the abdomen and is usually caused by problems with a specific organ. Stomach ulcers are the most common cause of this type of pain.
Cramp-like. This type of pain is linked to constipation, diarrhea, bloating, or flatulence. It can develop in women as a result of miscarriage, menstruation, or complications in the female reproductive organs. This type of pain comes and goes and may disappear completely without treatment.
Colicky pain. This ache is a sign of a more serious condition, such as kidney stones or gallstones. It happens suddenly and may feel like an acute muscle spasm.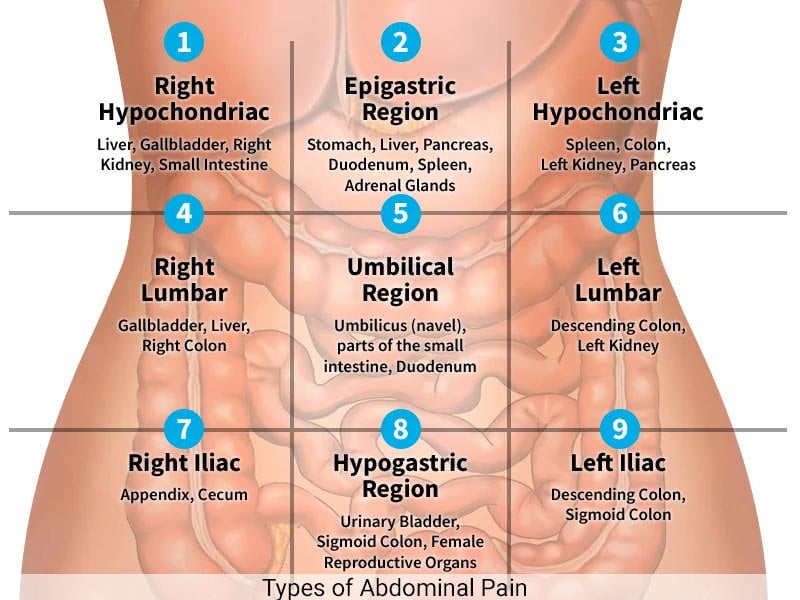 Are There Ways To Prevent Abdominal Ache?
There is no way to prevent all types of abdominal pain. However, it is possible to reduce the chance of being exposed to this type of pain. Abdominal pain prevention should start with the following:
Drink plenty of water
Maintain a healthy diet
Eat smaller meals
Exercise on a regular basis
It is also not recommended to lie down straight after your meal because it may cause abdominal pain along with heartburn. In general, you should not lie down for at least two hours after eating.
When To See a Doctor?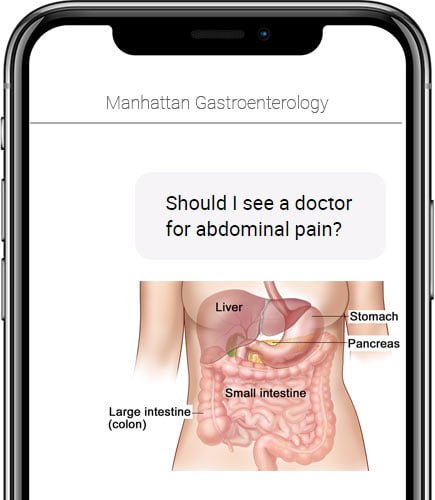 Mild pain can disappear on its own without treatment. However, if your abdomen pain is severe and the result of an injury, or pressure in your chest, you should consult a doctor.
Immediate medical assistance is required if your ache is so severe that you cannot sit or if you experience any of the following:
Higher fever
Persistent vomiting or nausea
Bloody stool
Yellowing of the eyes or skin
Difficulties with breathing
Serious tenderness of the abdomen or swelling
What Can You Do to Reduce Abdominal Pain?
Abdominal pain usually goes away on its own before medical attention is required.
There are certain self-care measures you can try to alleviate your symptoms while you wait for them to subside, such as:
Apply heat to your abdomen using a hot water bottle, a heating pad, or warming cream
Stay hydrated by drinking plenty of fluids
Reduce your intake of solid foods in favor of more bland foods such as bananas, crackers, and applesauce
Calm your mind and get plenty of rest
Avoid beverages that can worsen your symptoms, such as tea, coffee, and alcohol
Take a hot bath to relax the stomach area
Try over-the-counter antacids and mild painkillers like paracetamol
Avoid NSAIDs unless advised by your doctor
If you suffer from abdominal pain on a regular basis, see a gastroenterologist to determine the exact cause and take the necessary steps to make you feel better.
Important Reminder: The only intent of this information is to provide guidance, not definitive medical advice. Please consult a GI doctor about your specific condition. Only trained gastroenterologists can determine an accurate diagnosis and proper treatment.
As the best-in-class NYC gastroenterologists, our doctors of Manhattan Gastroenterology provide highly personalized and comprehensive care. They have earned some of the most respected reputations in NYC. For more information about the GI conditions we treat or to schedule a consultation with one of our specialists, please contact our offices.