Ulcerative colitis (UC) is a medical condition that causes inflammation and ulceration in the lining of the large intestine.
Ulcerative colitis is a chronic, inflammatory bowel disease that causes inflammation in the digestive tract. Ulcerative colitis is usually only in the innermost lining of the large intestine (colon) and rectum. Forms range from mild to severe. It can lead to potentially life-threatening complications, similar to Crohn's disease.
Unlike Crohn's, Ulcerative Colitis only affects your colon or your rectum, and it eats away only the innermost lining instead of eating all the way through. Ulcerative colitis causes inflammation and ulcers in the lining of your large intestine, which can make you feel a frequent need to empty your bowels.
Both Ulcerative Colitis and Crohn's disease are chronic inflammatory bowel diseases. Your symptoms may gradually worsen if left untreated. Located in Midtown, Union Square, and on Park Avenue in the Upper East Side of New York City, our doctors offer expert diagnosis and treatment for ulcerative colitis.
Patients with ulcerative colitis are at a higher risk for colon cancer and should undergo regular screening that should be discussed with your local NYC ulcerative colitis treatment specialist or gastroenterologist. Fortunately, effective therapies now exist for chronic treatment and management of this condition. If you have symptoms that could be consistent with Ulcerative Colitis or have already been diagnosed, you should always be evaluated with a thorough consultation and examination by a physician for an accurate diagnosis and treatment plan and to establish a surveillance regimen for colon cancer screening.
"




"




★ ★ ★ ★ ★

The entire staff was welcoming and made the visit quick and seamless. The office is clean, and the staff even make a point in offering coffee or water while you wait. The doctor was very friendly and to the point. Highly recommend choosing this office.
Symptoms of Ulcerative Colitis
Symptoms of Ulcerative Colitis include abdominal pain, which can be severe, and diarrhea, which can be bloody. Depending on the type of ulcerative colitis, you may also experience the following: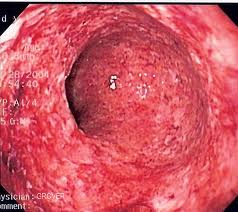 Eye inflammation
Fatigue
A feeling of urgency
Fever
Joint pain
Kidney stones
Loss of appetite
Osteoporosis
Although the exact causes of Ulcerative Colitis are not known, there are many theories, and heredity is also an indicator. If a member of your  family suffers from Ulcerative Colitis, you are more likely to get it.
While anyone at any age can contract ulcerative colitis, it is more common for people under age 30 to be diagnosed with it. It may also affect men more than women and affect Ashkenazi Jews more than non-Jews. Symptoms suggestive of Ulcerative Colitis require a complete diagnostic evaluation by your gastroenterologist.
Diagnosing Ulcerative Colitis
Symptoms suggestive of Ulcerative Colitis require a complete diagnostic evaluation. Blood tests and stool samples are part of the evaluation. A colonoscopy will need to be performed in order to fully visualize the entirety of the colon and obtain biopsies for a diagnosis of ulcerative colitis.
Our ulcerative colitis specialists must first rule out a number of other diseases such as:
Ischemic colitis
Crohn's disease
Colon cancer
Others that can present with similar symptoms
You should see your local ulcerative colitis specialist or our gastroenterologist establish a diagnosis and formulate your treatment plan.
Treatments for Ulcerative Colitis
Although there is no cure for ulcerative colitis, effective therapies now exist for chronic treatment and management of this condition that has drastically altered the natural history of this disease. Medicines, particularly biological therapies, can help dramatically reduce the symptoms and even deliver a long-term remission.
Ulcerative colitis treatment options include:
Combination of 5 ASA drugs for anti-inflammatory properties used for mild to moderate ulcerative colitis. 5 ASA drugs have been shown to work in 40% to 80% of patients.
Immune system suppressors
Biologic therapies and other modalities
Aminosalicylates are the main choice of treatment for mild to moderate ulcerative colitis, topical and systemic steroids can be used to treat ulcerative colitis flares, while immunosuppressants and biological drugs are used in moderate to severe disease.
Surgery is an option if medical therapy fails. Finally, if you suffer from Ulcerative Colitis, you need more frequent screenings for colon cancer as you have a higher risk of colon cancer.  An effective surveillance colonoscopy schedule should be formulated by your gastroenterologist.
Our doctors specializing in ulcerative colitis at Manhattan Gastroenterology must have a broad understanding of each patient's unique factors and then devise the best treatment plan. Ulcerative Colitis is not an exception.
Important Reminder: This information is only intended to provide guidance, not definitive medical advice. Please consult a ulcerative colitis doctor about your specific condition. Only trained, experienced physicians like our doctors in NYC can determine an accurate diagnosis and proper treatment.
Our doctors provide highly personalized and comprehensive care.  For more information about ulcerative colitis or to schedule an appointment with one of our GI specialists, please contact our Union Square/Chelsea, Midtown, or Upper East Side NYC offices.