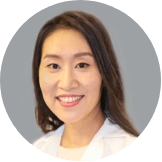 Kristen Lee, MD Gastroenterologist Dr. Kristen Lee is a double board certified, IVY league trained New York gastroenterologist with special interest in Women's health, colon cancer screening, inflammatory bowel disease (Crohn's disease / ulcerative colitis), IBS (Irritable Bowel Syndrome) and hemorrhoid treatment. Dr. Lee was also voted by her peers among the prestigious group of New York Super Doctors. She is affiliated with NY Presbyterian/Weill Cornell Medical Center. BOOK Appointment 5.0 ★ ★ ★ ★ ★

I had a great experience with Doctor Lee. She was so attentive and didn't make me feel rushed at all. I appreciated that she listened to my questions and answered thoroughly.


Educational background Dr. Lee graduated from Johns Hopkins University where she received her Bachelor of Science degree in Biomedical Engineering with honors. She then attended Weill Cornell Medical College in New York where she received her medical degree with academic distinction. Dr. Lee went on to complete her post-graduate training at Mount Sinai Medical Center including her residency in internal medicine and fellowship in gastroenterology. As part of her fellowship, she also perused research in the specialized areas of ethnic disparities in colon cancer screening and in inflammatory bowel disease. Awards Received Dr. Lee was voted by her peers among the prestigious group of New York Super Doctors. Dr. Lee has also received numerous academic and clinical awards, including The Janet Glasgow-Rubin Memorial Award at Weill Cornell Medical College given to female students who graduate in the top 10% of their class. She also received a research-training award from the National Institutes of Health and was a grant recipient for an aging research program. Memberships & Associations She is a member of American Gastroenterological Association (AGA), American College of Gastroenterology (ACG) and the American Society of Gastrointestinal Endoscopy (ASGE). Gastrologist in NYC Dr. Kristen Lee also holds membership with the Crohn's and Colitis Foundation of America (CCFA). Dr. Lee has been recognized by world's leading gastroenterologists, extensively published in medical literature and has presented various abstracts and other oral presentations in her field. Passion for Patient Care Dr. Lee's passion for patient care and clinical skills have earned her many awards and has earned her one of the finest reputations in NYC. Dr. Lee is affiliated with NY Presbyterian/Weill Cornell Medical Center. She looks forward to meeting you.
DISCLAIMER: PLEASE READ CAREFULLY
The information on this website is to provide general information. The information on this website does NOT reflect definitive medical advice and self diagnoses should not be made based on information obtained online. It is important to consult a best in class gastroenterologist for a consultation and examination regarding ANY and ALL symptoms or signs including abdominal pain, hemorrhoids or anal / rectal bleeding as it may a sign of a serious illness or condition. An accurate diagnosis and treatment plan should only be made by your physician in order to exclude a serious condition.