What is Barrett's esophagus, and why is esophageal cancer screening important?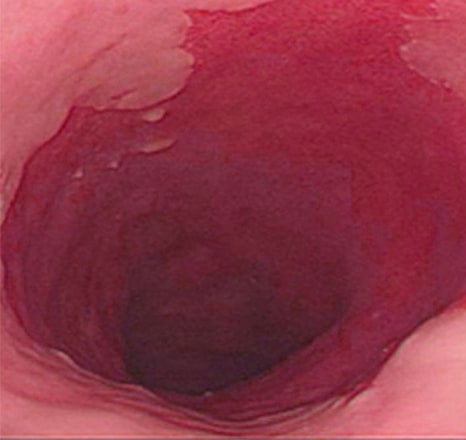 Barrett's esophagus is a medical condition that occurs when the cells in your lower esophagus damage from repeated exposure to stomach acid. This condition results in changes in the cells lining your esophagus that can rarely develop into esophageal cancer. Barrett's esophagus can appear in people who have long-term gastroesophageal reflux disease (GERD), although only a tiny percentage of GERD sufferers get Barrett's esophagus. You should see your gastroenterologist to discuss whether you should undergo screening for Barrett's esophagus. Barrett's Esophagus should always be evaluated with a thorough consultation and examination by a physician for an accurate diagnosis and treatment plan.
A gastroenterologist's diagnosis of Barrett's esophagus raises red flags because it increases the risk of cancer. It is a premalignant condition to esophageal adenocarcinoma, a form of cancer. In some cases, however, precancerous tissue, called dysplasia, develops. We can treat dysplasia before it becomes cancerous. So if you have Barrett's esophagus, you need more frequent cancer screenings. You should see your gastroenterologist for a comprehensive treatment plan and to discuss screening.
Symptoms of Barrett's Esophagus
If you have Barrett's esophagus, you may not have any symptoms, or the symptoms you have are related to gastroesophageal reflux disease. These symptoms include dry cough, frequent heartburn, or indigestion. Your gastroenterologist should evaluate your symptoms.
"




"




★ ★ ★ ★ ★

The entire staff were welcoming and made the visit quick and seamless. The office is clean and the staff even make a point in offering coffee or water while you wait. The doctor was very friendly and to the point. Highly recommend choosing this office.
Causes of Barrett's Esophagus
The most common theory is that Barrett's esophagus develops after chronic inflammation from GERD. Not everyone who has had GERD gets this condition, and not everyone with Barrett's esophagus suffers from GERD. Long-term GERD is an indicator, as is cigarette smoking. No one knows for sure what causes the condition since many with Barrett's esophagus never experienced acid reflux or heartburn issues.
Diagnosing Barrett's Esophagus
Currently, only trained gastroenterologists like our doctors, using an upper endoscopy for visual confirmation, can make an accurate diagnosis of Barrett's esophagus. Our NYC GI doctors have to be able to see the change in the lining of your esophagus. A definitive diagnosis usually requires a tissue biopsy to confirm the change in the cells lining your esophagus. A biopsy also can determine whether dysplasia cells are present and what stage (high grade or low grade) they are in. Your gastroenterologist will require an accurate diagnosis to come up with an appropriate treatment plan.
Treating Barrett's Esophagus
Treatment for Barrett's esophagus depends on whether high-grade, low-grade, or no dysplasia is present in the affected cells. While nothing can change the cells back from Barrett's esophagus or eliminate the cancer risk, we can provide some treatments. Given the higher risk, we recommend chronic acid suppression therapy and regular surveillance to screen for esophageal cancer and dysplasia. There are several different treatments available for the treatment depending on your diagnosis. Since these procedures involve risk and are not effective for everyone, you should discuss these options and others with one of our doctors during your office visit. Your gastroenterologist will work with you to develop an effective treatment and surveillance plan for your condition.
Important Reminder: The only intent of this information is to provide guidance, not definitive medical advice. Please consult a doctor about your specific condition. Only trained, experienced GI doctors like our doctors can determine an accurate diagnosis and proper treatment.
As best-in-class NYC gastroenterologists, our doctors provide highly personalized and comprehensive care. They have earned them some of the most respected reputations in NYC.
For more information about the GI conditions we treat, including screening for Barrett's Esophagus, Barrett's Esophagus diagnosis & treatments; or to schedule a consultation with one of our GI doctors, please contact our NYC offices.
Manhattan Gastroenterology Locations:
Manhattan Gastroenterology

(Upper East Side)
983 Park Ave Ste 1D, New York 10028


(212) 427-8761
Manhattan Gastroenterology

(Midtown)
56 W 45th St, Ste 802, New York 10036


(212) 533-2400
Manhattan Gastroenterology

(Union Square)
55 W 17th St Ste 102, New York 10011


(212) 378-9983