A colonoscopy (coloscopy) is an endoscopic examination of the large bowel performed by our colonoscopy screening doctors at Manhattan Gastroenterology. Our gastroenterologists guide a colonoscope (a long, thin, flexible tube containing a tiny video camera) from the anus to the end of the colon (cecum) and into the distal part of the small bowel (the terminal ileum). During your coloscopy, images from the camera are shown in real-time on a monitor, allowing the doctor to carefully examine the bowel. Biopsies and treatment can be given during this procedure, which usually takes about 30 minutes. We offer colonoscopy screening in multiple locations in New York City, including Midtown Manhattan and Upper East Side (UES).
What Is a Colonoscopy and Why Is It Performed?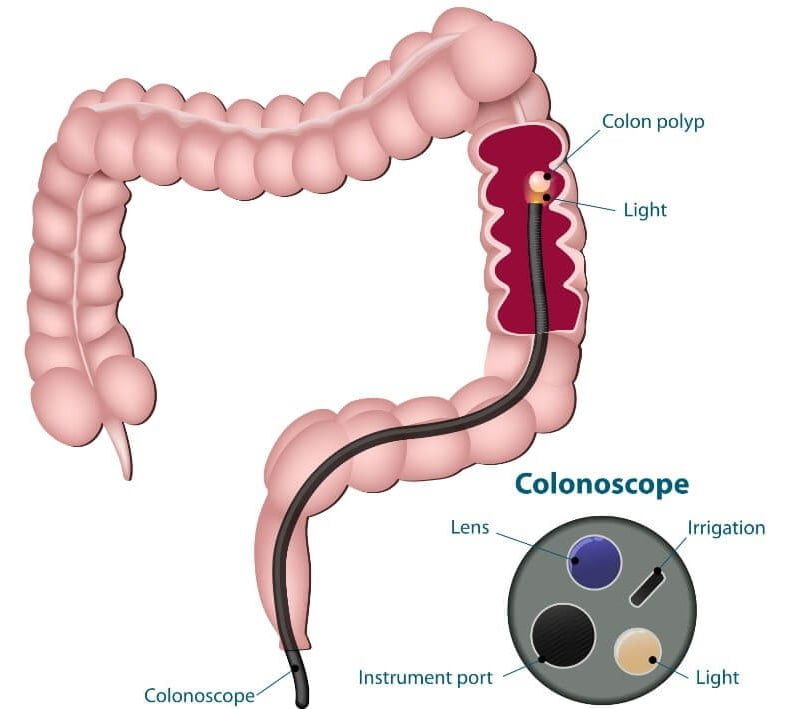 Colonoscopy is the gold standard screening exam used to look for colorectal cancer (commonly referred to as colon cancer) that is recommended in patients without symptoms aged 45 or over (or earlier depending on risk factors such as family history, polyps, and other factors) that should be discussed with your local gastroenterologist. Coloscopy is used to look for polyps or other growths in the colon with the goal of prevention and early diagnosis of colon cancer.
Our physicians use a long, flexible tube called a colonoscope. This device, about as thick around as a finger, has a video camera on its tip and sends images to a video monitor, where the doctor can observe its trip from your rectum to the deepest part of your colon. Colonoscopy is also used to evaluate patients with a wide array of digestive symptoms, including rectal bleeding, chronic diarrhea, chronic constipation as well as many other symptoms as part of a complete evaluation for a proper diagnosis.
At colonoscopy clinic, Manhattan Gastroenterology, we utilize the latest in medical technology and high definition equipment, and imaging modalities in order to optimally visualize your bowel during coloscopy to make a diagnosis and establish an effective treatment plan. Our gold star-rated JCAHO colonoscopy center is equipped to make sure your procedure is comfortable and safe while you are having your colonoscopy performed.
Why Is It So Important to Have a Colonoscopy and What Is a Screening Colonoscopy?
Colonoscopy is considered the gold standard of colorectal cancer screening methods.
Colon cancer is among the leading causes of cancer deaths in the United States, claiming about 50,000 lives a year. Increased awareness and prevention could save many of those patients. Coloscopy is a screening test to detect cancer early, while it is still treatable, and to detect and remove colonic polyps which may develop into cancers. The colonoscopy procedure also can be used to evaluate the cause of such symptoms as rectal bleeding, chronic diarrhea, and chronic constipation, and a wide array of digestive symptoms for an accurate diagnosis as part of a complete evaluation. By visually inspecting the inside lining of your colon, trained GI doctors who specialize in colonoscopies can assess its overall health and look for signs of other medical issues to get you back to health.
Who should have a Colonoscopy?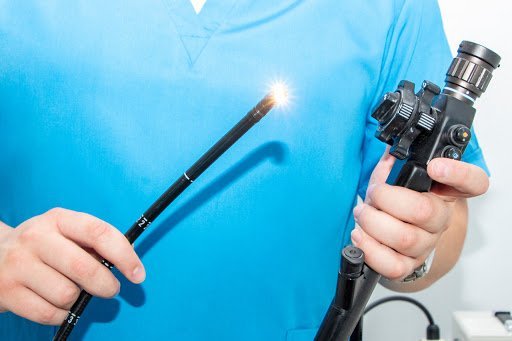 It is recommended that all individuals over 45 (or early depending on risk factors such as family history, history of polyps, and other reasons) undergo a screening colonoscopy. Patients with digestive symptoms such as rectal bleeding, chronic diarrhea, and many other symptoms should have a full evaluation by their gastroenterologist, which will likely include a coloscopy exam procedure and another testing as needed.
Depending on your personal and family history, you may need to have colonoscopies on a more regular basis which is to be decided by your gastroenterologist. After a colonoscopy, it's important to discuss with your gastroenterologist when your next colonoscopy is due, which is based on many factors.
"




"




★ ★ ★ ★ ★

The entire staff was welcoming and made the visit quick and seamless. The office is clean, and the staff even make a point in offering coffee or water while you wait. The doctor was very friendly and to the point. Highly recommend choosing this office.
What Will the Doctor Be Looking for During Colonoscopy?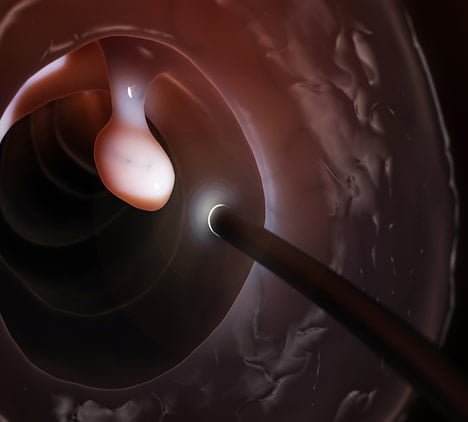 During the colonoscopy procedure, the doctor examines the entire large bowel for 'polyps' and other abnormalities of the lining of the colon. Polyps are growths that develop in the lining of the bowel. Around 40% of people over the age of 50 are found to have polyps in their bowel during a coloscopy test. Polyps can vary in size from being just a few millimeters in diameter to up to several centimeters in size. Some polyps are flat, while others are attached to the bowel wall by a narrow stalk. Although most polyps do not contain cancer, it is generally accepted that cancers arise in polyps.
If polyps are detected during the colonoscopy diagnostic test, they will most likely be taken out at the time. If there are abnormalities in the lining of the colon, a biopsy will be taken and sent to the pathologist for examination. Sometimes, during colonoscopy screening, the doctor will take biopsies of your colon to look for microscopic diseases that can not be seen with the naked eye. The doctor will use the results of the colonoscopy test to diagnose your symptoms in order to come up with an effective treatment plan.
What Are Some of the Indications for a Colonoscopy?
Routine health screening
Rectal bleeding
Anemia
A change in bowel habit
Chronic diarrhea or constipation
Weight loss
Abdominal pain
Monitoring of conditions such as inflammatory bowel disease
Another specialist has ordered that you have a colonoscopy
Many other symptoms and conditions
Since some of the symptoms are also the symptoms of more severe conditions, you should see your local gastroenterologist who specializes in colonoscopy screening or visit a Manhattan Colonoscopy Center. Call us for an appointment or visit any of our outpatient colonoscopy locations in NYC to meet the best in class, top-rated gastroenterologists. We offer outpatient, private colonoscopy as well as the same-day, emergency colonoscopies.
Why Chose Manhattan Gastroenterology for Your Colonoscopy?
At Manhattan Gastroenterology, we utilize the latest in medical technology and high definition equipment, and imaging modalities in order to optimally visualize your bowel during colonoscopy to make a diagnosis and establish an effective treatment plan. Our gold star-rated JCAHO procedure room is equipped to make sure your procedure is safe while you are having your colonoscopy performed. Our board-certified anesthesiologists are also there with you the entire time, making sure the procedure is both comfortable and safe. Importantly, our board-certified gastroenterologists who undergo extensive training on colonoscopies will perform your procedure and help you to get the answers that you need.
Our physicians utilize the latest high-definition imaging modalities in order to optimally visualize your bowel during colonoscopy test procedure to make an accurate diagnosis. We offer the newest colonoscopy procedure in all New York City locations.
How Many Days Do I Need to Take off Work?
You will need to take off work the day of the colonoscopy gastroscopy procedure.
Do I Have to Take Laxatives Before My Colonoscopy?
Bowel preparation before a colonoscopy is extremely important. Good preparation allows a physician to thoroughly examine the colon. The bowels need to be completely and carefully cleaned so that the doctor can easily discover any potential problems. Polyps or other abnormalities may be harder to notice if the bowels aren't prepped and emptied properly prior to the procedure. You should consult the gastroenterologist that is performing your procedure for you about the details of your bowel preparation (solution, specific instructions) to ensure it is done correctly to allow for a better prep rather than relying on general instructions. Procedural preparations also change and evolve with time, so it is important to understand what preparation, solution, and instructions your doctor recommends now for the best preparation for your procedure.
What About Medications That I Take?
You should discuss all the medications that you are taking with your gastroenterologist prior to your procedure. Your specialist will advise you accurately if there is any reason to discontinue any of their use. This must be discussed with your gastroenterologist as this is a case-by-case decision in order to ensure your safety. Patients should advise their doctors of all medications they are taking. Make sure to tell your gastroenterologist if you are allergic to any medications prior to having a coloscopy performed. At Manhattan Gastroenterology, our doctors for colonoscopy will be glad to discuss this with you prior to your procedure.
What Can I Expect When I Arrive and Immediately Before the Procedure?
Colorectal cancer is the 2nd leading cause of cancer death among men and women combined in the United States.
When you arrive at any of the NYC outpatient colonoscopy centers, you will be checked in and complete office paperwork and consent forms for the procedure. You will then be taken to your dressing bay and allowed to change into your gown. The staff will ask you some questions about your condition and indications for the screening procedure and about your experience with the preparation. Your vital signs will also be taken at that time, and answer any questions you may have.
Will I Receive Sedation?
After you are changed and check-in, our board-certified anesthesiologist will place an IV line in anticipation of providing sedation for the procedure. The anesthesiologist will place a nasal canal for oxygen, and EKG electrodes will be attached to your chest for safe monitoring during the procedure. The sedation will help you better tolerate any discomfort, such as pressure, bloating, or cramping. Our board-certified anesthesiologists are always present to make sure you are comfortable and safe during your entire procedure. Since sedation is given, you will need a driver to take you home, which should be arranged ahead of time.
What Can I Expect During the Procedure?
Before beginning the procedure, you are asked to lie on your left side. The anesthesiologist will then slowly administer the medication, making you sleepy. Your doctor will then insert the colonoscope into your rectum and advances it along your large intestine to examine its lining. Since you will be sedated for the procedure, you most likely will not feel pain or discomfort during this time.
What Is the Colonoscopy Doctor Looking for During My Colonoscopy and What Kind of Results Are Obtained?
During the procedure, our doctors control the movements of the colonoscope and visualize the colon on a high-definition video screen. Our doctors examine the lining of your colon as they insert and withdraw the colonoscope. If polyps are visualized, they are removed with the biopsy instruments or with a snare. Using a technique called "snare polypectomy," they pass a wire through the colonoscope and circle the polyp at its base. Our doctors then remove the polyp from your intestinal wall with an electrical current. Snare polypectomy is painless.
Colonoscopy is a generally safe and well-tolerated procedure that prevents cancer
If our specialist finds an area that they want to study further, they can pass instruments through the colonoscope to retrieve a biopsy — a small tissue sample — to have analyzed. Biopsies can help identify many conditions; the doctor may take one even if they don't suspect cancer as it can help diagnose other conditions. This does not cause any discomfort or pain and is generally very well tolerated. It also provides very important information to the doctor for an accurate diagnosis and treatment plan to be formulated.
Even if the colonoscopy specialist doesn't find anything in the lining of your colon, that doesn't mean the coloscopy was not useful. These results will be used as a baseline for future tests. Colonoscopy has consistently been proven to prevent colon cancer and be instrumental in the diagnosis of a wide array of digestive diseases, and it is an accomplishment to have had it done for yourself.
How Long Does a Colonoscopy Take?
The procedure usually takes 45 minutes or less and is performed at our JCAHO certified office-based surgery unit. Due to the preparation and recovery time, however, plan on spending two to three hours at the office. If you've been sedated, you will need someone responsible for driving you home after the procedure.
What to Expect During the Recovery Stage?
While the sedatives wear off after the procedure, the office staff will monitor your recovery. You may experience some minor cramping or bloat due to air introduced into your colon during the examination, but it should pass quickly. Before you are released, your doctor will explain what, if anything, they found, although they won't yet know the results of any biopsies. It is essential to discuss with your doctor when the next timing of your colonoscopy will be based on your results and what the plan going forward will be.
Again, since you have received sedation, you must have someone drive you home and stay with you before you can be released. Even if you feel alert, your judgment and reflexes may be impaired for the next 12-24 hours. You can eat after the procedure unless you are instructed otherwise.
Colonoscopy Complications
Colonoscopy is generally a very safe procedure when performed by trained and experienced doctors. Complications are rare, but the most severe is a perforation of your colon, which may require surgery to repair. Other complications include bleeding from the site of a biopsy or polypectomy. The bleeding often stops by itself, but the doctor can control it through the colonoscope during the procedure. Symptoms from complications include severe abdominal pain, fever, chills, or rectal bleeding, and others. While these complications are rare, you should contact your specialist immediately if you notice them or any other symptoms that concern you. We would be glad to discuss this with you.
Cleaning The Endoscope and High-Level Disinfection to Ensure Your Safety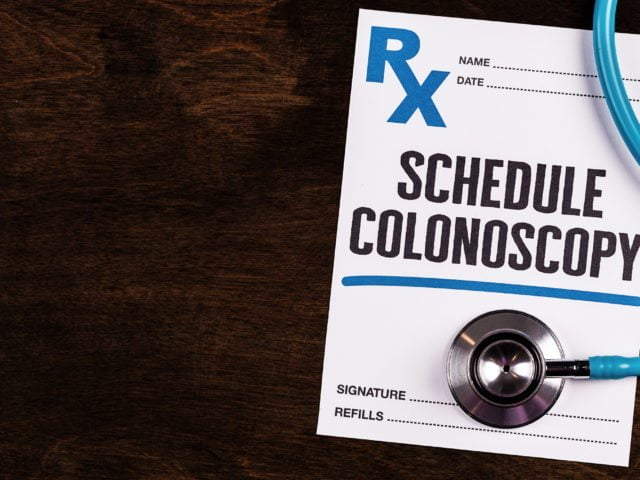 At Manhattan Gastroenterology, we utilize the Advantage Plus endoscopic reprocessing machine. The ADVANTAGE PLUS™ is a fully automated, computer-based asynchronous endoscope reprocessor that monitors each endoscope channel separately for blockage and proper flow, ensuring complete high-level disinfection. A computerized detection system eliminates human error in the selection and connection of hook-ups. It is a state-of-the-art system to ensure your safety and the highest level of infection control. Until the next procedure, the device is placed on a unique hanger to ensure that it does not come into contact with any other instruments or surfaces. We take every measure to ensure the safety of your procedure.
Six Questions That Could Save Your Life (or the Life of Someone You Love)
Test your knowledge about colon or rectal cancer (CRC) screening. If you think the answer is true or mostly true, answer TRUE. If you think the answer is false or mostly false, answer FALSE. The answers are at the bottom of the page.
Colorectal cancer is the third leading cause of cancer deaths in the United States.
Colon cancer is predominantly a "man's disease," affecting predominantly more men than women each year.
Only women over the age of 45 who are currently experiencing some symptoms or problems should be screened for CRC or polyps.
The tests for screening for CRC include a digital rectal exam, a stool blood test, flexible sigmoidoscopy, and colonoscopy.
A colonoscopy screening examination typically requires an overnight stay in a hospital.
Colon cancer is often preventable.
Answers
TRUE. Nearly 150,000 new cases of CRC are diagnosed in the U.S. every year. About 50,000 people a year die from the disease. If detected early through colonoscopies, colorectal cancer can be treated and cured.
FALSE. Colorectal cancer affects an equal number of men and women. While some think colorectal cancer is a disease that only affects men, proper screening can save their lives. Early detection is the key.
FALSE. Beginning at age 45 (or earlier depending on risk factors), all men and women should be screened for colorectal cancer, even if they are not experiencing any symptoms.
TRUE. All these tests are used to screen for colorectal cancer even before you have any symptoms. Beginning at age 45 (or earlier if you have a personal or family history of CRC, polyps, or long-standing ulcerative colitis). Colonoscopy is the gold standard for diagnosis.
FALSE. A colonoscopy exam usually is an outpatient procedure. You receive a mild sedative beforehand, and then while you're relaxing, our colon specialists gently insert a colonoscope into your rectum to visually check the lining of your colon. The colonoscope is a thin, flexible tube with a camera and a light on its tip. During the procedure, video from the camera is displayed on a monitor in real-time. The procedure is safe and typically takes less than 45 minutes.
TRUE. Colon cancer is highly preventable. Colonoscopy may detect polyps (small growths on the lining of your colon). Removing these polyps (by biopsy or polypectomy) results in a significantly reduced risk of developing the disease in the future.
Important Reminder: This information is only intended to provide guidance, not definitive medical advice. Please consult a GI doctor about your specific condition. Only trained, experienced gastroenterologists like our doctors can determine an accurate diagnosis and proper treatment.
For more information about colonoscopy or to schedule a colonoscopy with one of the best NYC gastroenterologists, please contact our Midtown or Upper East Side (UES) colonoscopy office.