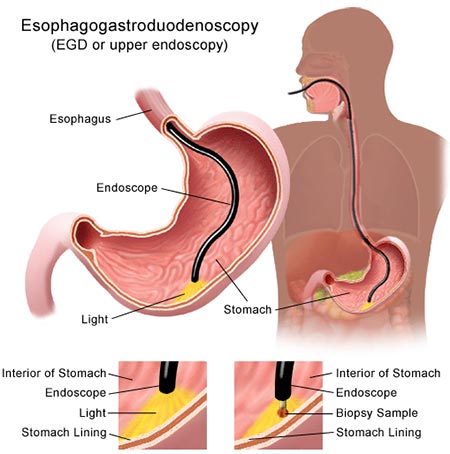 An endoscope is a bendable, narrow tube with a lighted camera that's used to perform internal exams. The instrument transmits video images to a monitor, giving the doctor a clear view of an interior area. An upper endoscopy involves the upper GI (gastrointestinal) tract, which is defined as the esophagus, stomach, and first section of the small intestine, also known as the duodenum. Other names for this procedure include esophagogastroduodenoscopy (EGD) and upper GI endoscopy. At Manhattan Gastroenterology, our doctors utilize this exam for an accurate diagnosis of a wide range of digestive disorders. We use state-of-the-art high definition endoscopy equipment for optimal visualization of the GI tract to allow for a complete and accurate exam. You should speak with the gastroenterologist performing your procedure for precise instructions for preparation prior to your exam.

Preparing for an Upper Endoscopy
Before your procedure, tell your doctor about your medical circumstances, especially heart or lung conditions, diabetes, pregnancy, and previous surgery or other treatments to the upper GI area during your consultation. Mention all types of medications you take, including over-the-counter ones.
It's important not to eat or drink anything before the procedure; this includes water. Typically, such fasting is necessary for 8 hours prior to your exam. It provides a clear visual field and also helps prevent possible vomiting.  At Manhattan Gastroenterology, our board-certified anesthesiologist will provide sedation to keep you comfortable and safe during your procedure.  You will need to arrange for someone to drive you home and to do any other necessary driving for 12 to 24 hours following your release to ensure your safety.
Medication Questions
You should discuss all the medications that you are taking with your gastroenterologist prior to your procedure.  Your doctor will advice you accurately if there is any reason to discontinue any of their use.  This must be discussed with your gastroenterologist as this is a case by case decision in order to ensure your safety. Patients should advise their doctors of all medications they are taking. Make sure to tell your gastroenterologist if you are allergic to any medications prior to having a colonoscopy performed.   Our doctors at Manhattan gastroenterology will be glad to discuss this with you prior to your  Upper Endoscopy Procedure.
"




"




★ ★ ★ ★ ★

The entire staff was welcoming and made the visit quick and seamless. The office is clean, and the staff even make a point in offering coffee or water while you wait. The doctor was very friendly and to the point. Highly recommend choosing this office.
Upper Endoscopy Aftercare
When the endoscopy is over, you'll enter a recovery area where you'll be monitored for roughly an hour while the sedative wears off. You might feel nauseated or bloated from the air pumped into your stomach. You may have a sore throat, which could last a day or two.
The doctor will talk to you before you leave, offering immediate observations and results of the upper endoscopy. If you had a biopsy, it would probably take a few days to learn those results.
After someone drives you home, plan to rest for the remainder of the day. You can normally eat unless your doctor says not to, but you should avoid alcohol for up to 24 hours. You should be able to take your normal medications once you're home. Your doctor will give you any specific instructions necessary.
You should speak with the gastroenterologist performing your procedure for precise instructions for preparation prior to your exam.
At Manhattan Gastroenterology, we offer state-of-the-art gastroenterology care.  Our doctors are expert gastroenterologists and will provide a thorough consultation and physical examination to arrive at an accurate diagnosis and treatment plan.  Please call our offices for more information or to schedule an appointment.
Manhattan Gastroenterology Locations:
Manhattan Gastroenterology

(Upper East Side)
983 Park Ave Ste 1D, NY 10028


(212) 427-8761
Manhattan Gastroenterology

(Midtown)
51 East 25th Street Ste 407, NY 10010


(212) 533-2400
Manhattan Gastroenterology

(Union Square)
55 W 17th St Ste 102, NY 10011


(212) 378-9983